Our vision is to provide all the mutual fund related services at single place. Using our MoneyOnApp mobile app, individual can know, avail, track and maximize mutual benefits.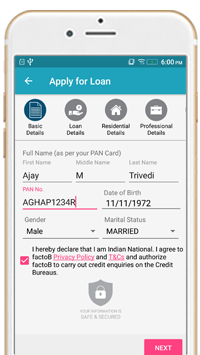 Personal Loan / line of credit
You may be in the need of money for various purpose like medical emergency, education, marriage, planning to switch job and many more…
MoneyOnApp provides Personal loan and line of credit to salaried employees.
You just need to enter few details to get online loan quickly.
Quickly apply for personal loans and line of credit on MoneyOnApp app and get your needs fulfilled easily in just few clicks.
Downloading EPF Passbook is made fast and simple
EPF passbook is an online version of the PF status book, where employee's PF status and transactions are recorded and can be tracked. Month and date wise, all the transactions made in the account are displayed in the EPF passbook.
With download passbook feature, you can download your PF passbook in PDF format. You need to enter your activated UAN no, password & it will be downloaded in PDF format on your device.
EPF passbook will be available for active members only.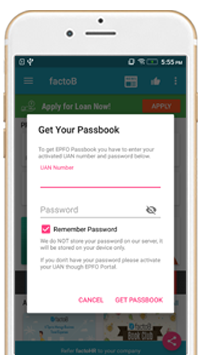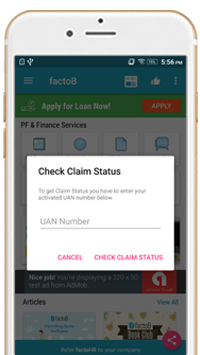 Get to know your PF Claim Status instantly!
PF members are always in a concern of their PF claim status.
Now, if you have submitted a claim at any of the EPFO offices in India, you can use this service to check the status of your applications in real time.
You simply need to know your UAN no. and you will get all information regarding EPF withdrawal or Pension claim status in MoneyOnApp.
Gratuity Calculator
Gratuity is an amount of money paid to you for services rendered in the company.
Now, you can calculate your Gratuity amount anytime, anywhere with our Gratuity calculator.
You just need to enter your last Basic+DA amount, date of joining and leaving the company in MoneyOnApp and it will show you the total Gratuity amount along with taxable Gratuity amount.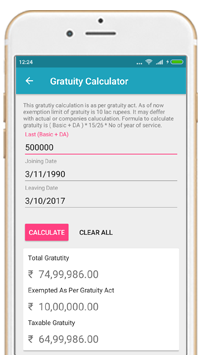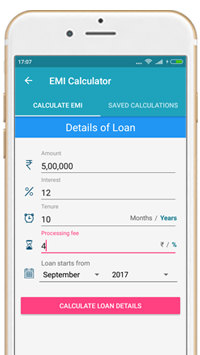 EMI Calculator
MoneyOnApp provides advance EMI calculator where you can calculate EMI by providing the loan amount you want to borrow, interest rate provided by the bank and time by which you will repay your loan. Additionally, you can also provide processing fees and loan start date to arrive at accurate EMI amount.
You can check loan repayment schedules and charts to get good understanding of future cash flows and you can download the calculation in PDF format for future purpose.
Invite Friends
Invite your friends to use MoneyOnApp and earn MoneyOnApp PRO (exclusive access of MoneyOnApp features without any ads).
Share the unique link with your friends through whatsapp, facebook, gmail, linkedIn etc. to install MoneyOnApp and you will get MoneyOnApp PRO for next 30 days. Refer rules and regulations to know more.